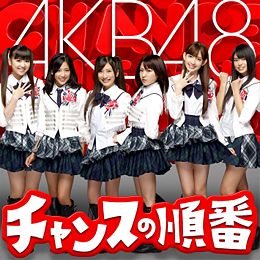 Chance no Junban (チャンスの順番 , The Turn of Chance) is AKB48's 19th major single. The senbatsu members were decided through the Janken Taikai. Chance no Junban was played in Episode 19 of the anime. The song is the succession song of Ishida Haruka.
CHANSU no junban tsugi wa kimi ni kuru
Donna ni maketete mo kondo wa kachi ni yukou
Akiramenakereba yume wa kanaunda
Zutto ganbatte kita
Kimi no doryoku mukuwareru you ni...
Sora wo nagareru shiroi kumotachi no
Dore ga hayai ka nante imi ga nai to omou
Kinou no kimi ga deokurete ite mo
Sono uchi kaze no muki mo kawarihajimeru
Jibun ni wa nani ga tarinai no darou
Hitori nayanda toki mo atta
Dakedo tachidomatte ite mo shou ga nai
Janken mitai ni un wa meguru mono
Ima made tsuitenakatta kondo wa kimi no ban da
Kujikecha ikenai naitecha ikenai
Nagai fuyu no ato ni wa
Kimi no haru ga sugu soko ni kiteru
Mawari no tomo wa hitori mata hitori
Yume ni tsudzuku kaidan nobotte itta yo
Tatoe BIRI de mo aseru koto nai sa
Dokoka de kaze ga fuitara oitsuki oikoseru
Tochuu de dareka to kuraberu yori mo
Mirai no jibun shinjirunda
Kimi no PEESU de GOORU made hashirinukero!
Yume no hou kara wa soppo mukanai yo
Katte ni kocchi kara se wo mukete shimau mono
Nani ga attatte sono te nobasunda
Un wa gamushara no mikata
Kimi ni dekiru subete no koto wo yare!
CHANSU no junban
Itsuka kitto kuru
Mada saki no you demo
Tashika ni chikadzuiteru
Koe ga kakaru made hikari ataru made
Kimi wa ima made ijou ni
Donna toki mo kagayaite iyou
The turn of chance is coming to you next
It doesn't matter how much you've lost, this time let's go for the win
If you don't give up your dreams will come true
You've always done your best
So that your efforts will be rewarded...
I think it's pointless to decide
Which of the clouds floating in the sky is faster
Even if you came out a little late yesterday
Someday soon the wind's direction will start to change
Sometimes you've worried alone
Wondering what was it that you lacked
But nothing will change if you just stand right there
Luck goes around, like a rock-paper-scissors game
You weren't lucky so far, but this time it's your turn
Don't feel crushed, don't cry
After the long winter
Your spring is coming right away
The friends around you, one by one,
Went climbing the stairs that lead to their dreams
Even if you're the last of the list, don't fret
If the wind comes blowing your way you will catch up on them and surpass them
Rather than comparing yourself to someone else at midway
You'd better believe your future self
Run to the goal at your own pace!
Dreams don't turn the other way
They're something we decide to turn our back on
Whatever happens, stretch out your hand
Luck is recklessness's ally
Do everything you can!
The turn of chance will surely come by one day
It might look far away but it's certainly getting closer
As long as you have voice, as long as light shines over you
Keep shining at all times
Even more than you've shone so far
チャンスの順番 次は君に来る
どんなに負けてても 今度は勝ちに行こう
あきらめなければ 夢は叶うんだ
ずっと 頑張って来た
君の努力 報われるように…
空を流れる白い雲たちの
どれが速いかなんて 意味がないと思う
昨日の君が出遅れていても
そのうち 風の向きも変わり始める
自分には何が足りないのだろう
一人 悩んだ時もあった
だけど 立ち止まっていてもしょうがない
じゃんけんみたいに 運は巡るもの
今までついてなかった 今度は君の番だ
くじけちゃいけない 泣いてちゃいけない
長い冬の後には
君の春がすぐそこに来てる
まわりの友は 一人 また一人
夢に続く階段 上って行ったよ
たとえビリでも焦ることないさ
どこかで風が吹いたら追いつき追い越せる
途中で誰かと比べるよりも
未来の自分 信じるんだ
君のペースでゴールまで走り抜けろ!
夢の方からは そっぽ向かないよ
勝手にこっちから背を向けてしまうもの
何があったって その手 伸ばすんだ
運はがむしゃらの味方
君にできる すべてのことをやれ!
チャンスの順番 いつかきっと来る
まだ先のようでも確かに近づいてる
声が掛かるまで 光当たるまで
君は今まで以上に
どんな時も輝いていよう