We are working on this page! Feel free to join and add your own sub plots.
The first mention of something that could be linked will be linked, the following ones not.
---
SC0122: Prestory
Edit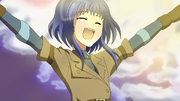 The plot of the roleplay starts with Motomiya Hikari planning to restart AKB0048 in its New Era. The first generation in the new era, the 150th Generation of AKB0048 Trainees, joins on November 18th SC0122. Due to the lack of activity, only three roleplay threads happen. AKB0048 starts out with no successors and no center nova, following the disappearance of Miorin the 9th.
[audition]
SC0123: 0048 debuts again
Edit
[first live]
[Komari]
On [date], AKB0048 announced its second generation in the new era, the 151st Generation of AKB0048. The generation that'd consist of Miyabi Honoka, Asahina Miru, Zoey Bright, Kashita Miyagi, Ashley Snow and Masuda Akari was choosen through a combat selection.
SC0124: 0048 continues to rise
Edit
SC0125: A new album and meeting new people
Edit
SC0126: unknown future
Edit