[Real Life: 2018.05.22 | SC0126.05.22 15:01PM]
Edit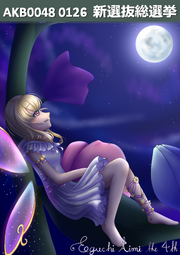 Good day, everyone.

The Senbatsu Sousenkyo Voting Period has started.
It's going to be a hectic time for us members, but I do, nonetheless, look forward to it. Every year brings its fair share of surprises, and I am curious to see what this year will bring.
I noticed some of the other members have started sharing their posters via their social media accounts, so I felt it was only appropriate for me to do the same.
Please continue to support AKB0048 to the extent that you are inclined to.
With the best of regards
Aimi
(2) new response(s) from friends
@Shirimasen: You look awesome, Aimi!
@Gorilla_girl The fairy of 00!!!
@Alirin: Thank you, Erika-san. It is only a costume though, Akimoto-san.