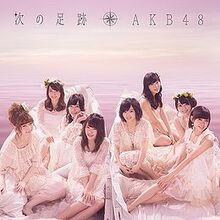 Yume no Kawa (夢の河, River of dreams) is a song of AKB48's 27th single Gingham Check. The song is the gradduation song of Maeda Atsuko.
Koko wa doko na no darou?
Sora wo miagete sagashita hoshi
Watashi itsu no ma ni ka
Hitori hagurete shimatta yo
Nani mo osorenaide
Tatoe hanaretete mo
Zutto
Zutto
Minna kawarazu ni
Soba ni iru kara
Yume no kawa wo
Watatta fune ga
Shizuka ni kishi ni tsuku
Yoake mae
Hajimete no daichi ni ippo
Ashi wo ima fumidasu
Mimi wo sobadatete mite
Kaze no mukou ni kikoeru deshou
Donna tsurai toki mo
Dareka mimamotte kureteru
Fukai kiri no naka wo
RANTAN tomoshinagara
Kitto
Kitto
Yoru no sono saki ni
Mezashiteta basho
Yume no kawa wo
Chiisana fune ga
Yukkuri kiete yuku
Fuansou ni...
Yurete ita anata no senaka
Yuuki furishibotte...
Kyou wa SAYONARA iiatte
Itsuka mata aeru hi made
Sou sabishisa no namida wa fuite
Chanto miokurimashou
Yume no kawa wo
Watatta fune ga
Shizuka ni kishi ni tsuku
Yoake mae
Watashi kara saisho ni ippo
Saki wo arukou
Yume no kawa wa
Kako kara ima e
Ima kara mirai e to
Nagareteru
Sorezore no kibou no fune wo
Dare mo koide irunda
Yume ga kanattara
Mukae ni kuru yo
Where might I be?
The star I looked up to the night sky to find
Somewhere along the way
On my own, I lost sight of it
Don't be afraid of anything
Because even if we are separated
Always
Always
Everyone will unchangingly
Be by your side
The boat that crossed
The river of dreams
Quietly reaches the shore
Before dawn
The first step onto the earth
My foot will now take
If you try listening carefully
You should be able to hear it beyond the wind
No matter how hard times may be
Someone is always watching over you
In the thick fog
Lantern lighting your way
Surely
Surely
Just beyond the night
Is the place you were aiming for
Along the river of dreams
The small boat
Slowly disappears
Looking anxious…
Your back trembled
As you gathered all your courage
Today we said goodbye to each other
Until the day we can meet again
Yes, we will wipe away our lonely tears
And send you off properly
The boat that crossed
The river of dreams
Quietly reaches the shore
Before dawn
From my first step
I will walk forward
The river of dreams
From the past to the present
From the present to the future
Is flowing
Everyone is rowing
Their own boat of hope
When my dream is fulfilled
I'll come for you
ここはどこなのだろう?
空を見上げて探した星
私 いつのまにか
一人 逸(はぐ)れてしまったよ
何も怖れないで
たとえ離れてても
ずっと
ずっと
みんな変わらずに
そばにいるから
夢の河を
渡った舟が
静かに岸に着く
夜明け前
初めての大地に一歩
足を 今 踏み出す
耳をそばだててみて
風の向こうに聴こえるでしょう
どんなつらい時も
誰か 見守ってくれてる
深い霧の中を
ランタン 灯しながら
きっと
きっと
夜のその先に
目指してた場所
夢の河を
小さな舟が
ゆっくり消えて行く
不安そうに…
揺れていたあなたの背中
勇気 振り絞って…
今日はサヨナラ言い合って
いつかまた会える日まで
そう寂しさの涙は拭いて
ちゃんと見送りましょう
夢の河を
渡った舟が
静かに岸に着く
夜明け前
私から最初に一歩
先を歩こう
夢の河は
過去から今へ
今から未来へと
流れてる
それぞれの希望の舟を
誰も漕いでいるんだ
夢が叶ったら
迎えに来るよ